Life lessons: feeling lost, needing inspiration


I had a moment of clarity today…

I took a hit of my vape Tangie pen before playing basketball, but I had a spark of inspiration.
I'm getting lazy. I'm missing life. I lost the path and feel like I'm in the dark. Getting too comfortable. No purpose or intention. Literally letting life go by and not enjoying the ride.

Life is now.

I recalled when I had that flame that inspired me. When I first wanted to get in the cannabis industry, I did everything I could to get into it. I bought books and researched everything I could to get smarter on it. I pushed myself. Up late, cleaning up my resume and cover letters, networking and going to crazy meetups like the Cannabus. I even worked as a free intern for this small processor to get my foot in the door, on top of my full-time job at Boeing. I had that ambition that pushed me to level up though, and it was satisfying...

Then playing basketball with these thoughts, I ran. I ran hard. I played hard to win. Especially because there were so many people playing and waiting, I didn't want to lose and have to wait to play again.

Same applies to the rest of my life. I have to push myself.

So what's next? Why am I not motivated anymore? What can push me to achieve the next big thing for me. How can I level up?
​

Powered by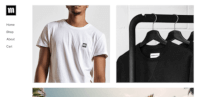 Create your own unique website with customizable templates.